Fire Pits
Even in the warmest climates outdoor living areas can get a little chilly at night. A well designed fire pit could just be the right idea to maximise the time you can spend in an alfresco dining area, patio or garden. With so many designs and ideas for firepits, including both wood and propane fired outdoor models you can easily find a model for sale that will fit your landscaping needs.

Outdoor Fire Pits provide not only warmth but an ambiance or mood that is just so appealing. Styles and designs are varied and even fuel types differ, we take a look at some of the options.

One of the major issues is choosing the right design and the right fuel for you own fire pit. Design is a matter of fitting in with the landscape or design of the outdoor living area.

The right fuel will depend on safety regulations and the ease of fuel sully and maintenance, as well as aesthetic values.
Fire Pit Installation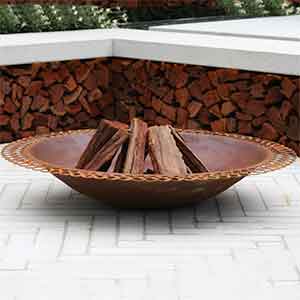 When looking at installing any outdoor fire pit it is essential to look at the position, is it under cover ? If so you may need to install some form of flue or chimney to allow the smoke and excess heat to be ventilated.
Is this a permanent or temporary installation, portable models are available, some are lightweight with removable legs, built in permanent fire pits are the other extreme.
The simplest way to build an outdoor fire pit is the traditional way, dig a shallow hole in the ground and start a fire, easy, but not always safe and practical.
Most modern fire pits are metal and stand on legs so that they can be used on patios and other landscaped areas.
Some smaller models can actually be built into a large outdoor table, however most are used in seating areas.

It is essential to check with safety regulations before installing any outdoor fire pit, either wood burning or propane. Check out the range of models available for sale on line, find which model is most suitable for your uses, check the safety regulations and perhaps look for professional installation.
Fire Pit Accessories
Fire pit covers and fire pit tables are also available and are popular in the following states:
South Dakota, Colorado, Ohio, Nebraska, Minnesota, Wisconsin, Idaho, Indiana, North Dakota, Connecticut, New Hampshire, Pennsylvania, New Jersey and Arizona
Fire Pit Fuels and Materials
Outdoor fire Pits are usually fueled by propane gas or fire wood. Some fire pits are made of rock or stone. Contemporary designa are also made of stainless steel and othe metals.
Propane fire pits provide an instant heat with little preparation.

Fire pits fueled by fire wood may take a little to longer to heat up and may require more cleaning, however a real flame provides a different feeling and this may be seen as desirable.
Rock or stone fire pits need to be built by experienced contractors. Rock and stone both contain moisture and when subject to heat may crack or explode.

If you are thinking of constructing your own firepit you should consult with an expert. An outdoor fire pit can help you make the most of your outdoor living area.

Gas or propane are popular however so are traditional fuels especially timber.