Californian Garden Centers, Garden and Plant Nurseries
Californian Garden Center, Plant Nurseries and garden center guide.
Plant Nurseries and Tree Nurseries California CA. Californian Garden Center and stores carry a wide range of plants including roses, trees and shrubs, topiary, bulbs, flowers, native plants, protea, banksia, grevillea, hakea, isopogon, eucalypts, acacias and leptospermums.
Plants for shade are also popular in California and many plant nurseries carry a range of shade plants, house plants,garden plants,native plants as well as providing information on growing plants.
One of the features of modern garden centers is the ability to browse the variety of plants and garden supplies offered through web sites. You can get a good idea as to what each nursery offers from the online catalogues.
Plant Nurseries and Garden Centres servicing : California CA
Including Los Angeles, San Diego, San Jose, San Francisco, Long Beach, Fresno, Sacramento, Oakland, Santa Ana, Anaheim, Bakersfield, Riverside, Stockton, Chula Vista, Fremont, Modesto, Glendale, San Bernardino, Huntington Beach, Irvine, Oxnard, Fontana, Moreno Valley, Santa Clarita, Oceanside, Garden Grove, Ontario, Rancho, Pomona, Santa Rosa, Salinas, Torrance, Hayward, Pasadena, Corona, Escondido, Orange, Fullerton, Elk Grove, Sunnyvale, Thousand Oaks, El Monte, Simi Valley, Concord, Vallejo, Inglewood, Visalia, Santa Clara, Costa Mesa, Downey, West Covina, Norwalk, Burbank, San Buenaventura (Ventura), Berkeley, Roseville, Daly City, Fairfield, Richmond, Victorville, South Gate, Carlsbad, Antioch, Santa Barbara and surrounding areas.
So from specialist Tree Nurseries, Topiary experts and Rose Nurseries. If its in CA, we have it covered.
Our List of Nurseries in California includes many with an Online presence.
WILLOW CREEK SPRINGS
26521 Hammack Ave Perris,Ca 92570 in Riverside County
Contact Joe or Liz Grumbine 951-436-6361 or 562-537-5647
Web: www.willowcreeksprings.net

Wholesale nursery and botanic garden specialising in drought tolerant perennials,bushes, ground covers,vines,herbs,and trees
Organically grown live bushes, perennials, vines, ground covers, cactus and succulents,and herbs. We also sell hand made natural health and beauty products made with herbs from the garden. Classes and workshops are as field trips.
SUMMERWINDS GARDEN CENTRE
Cupertino
1491 South De Anza Blvd, Cupertino, California
Tel: (408)996-8355
FLORA GRUBB GARDENS
1634 Jerrold Ave San Francisco CA
phone : 415 626-7256
Good range of drought tolerant plants,ornanamental trees, shrubs and succulents.
RUTH BANCROFT GARDEN
1552 Bancroft Rd Walnut Creek CA
phone 925 944-9352
Large range of succulents and water wise plants in a wonderful display garden
www.ruthbancroftgarden.org
AUSTRALIAN NATIVE PLANTS NURSERY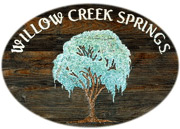 9040 North Ventura Avenue Ventura California 93001
Tel: (800) 701 6517
Tel: (805) 649 3362
Fax: (805) 649 4080
Web: www.australianplants.com

Looking for Australian Native Plants in the USA. This Nursery specializes in ornamental trees and shrubs for Californian gardens. Growing many plants from the Australian protea family, such as banksia, grevillea, hakea and isopogon as well as small eucalypts, acacias and leptospermums. Also grow South African leucadendrons, leucospermums and proteas.
EAST BAY NURSERY
2332 San Pablo Ave Berkley CA 94702
Tel: (510) 845-6490
Web: www.eastbaynursery.com

Roses, Japanese Maples, perennials, container plants, deer resistant plants hummingbird and butterfly attracting plants.
NOR'EAST MINIATURE ROSES
PO Box 1510 city: Arroyo Grande state: CA 93421-1510
Tel: 800-426-6485 fax: 805-481-7025
Web www.noreast-miniroses.com

Nor'East Miniature Roses propagates and sells miniature garden roses year round for the garden or containers. Our roses are specially hybridized with hybrid-tea form, vivid colors, and fragrance.
SUMMERWINDS GARDEN CENTRE
Cupertino
1491 South De Anza Blvd, Cupertino, California
Tel: (408)996-8355
WILDWOOD NURSERY
10300 Sonoma Highway Kenwood, California.
Tel: 707-833-1161
Web www.wildwoodmaples.com

Japanese or Asian Maples, Dogwoods, Gingkos, Hydrangea, conifers, Ornamentals, and garden sculpture
HERBFRESH.COM
1812 Davis Dr Fallbrook CA 92028
Tel: 7604511183 fax: 7604511183
Natural grown herbs and scented geraniums ready for planting available year round. secure online shopping